Phone:
250-555-5555
Toll Free:
1-877-555-5555
Website:
CRFish.com
Moored at Discovery Harbour Marina in downtown Campbell River, BC, Dock D.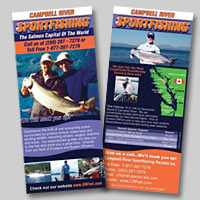 Welcome to CRFish, the Home of Campbell River Sportfishing Online!
Campbell River Sportfishing is a world class salmon fishing charter company in beautiful Campbell River, BC, the "Salmon Capital of the World".
That's right! We are known world wide for our salmon sport fishing. It's been our legacy for centuries.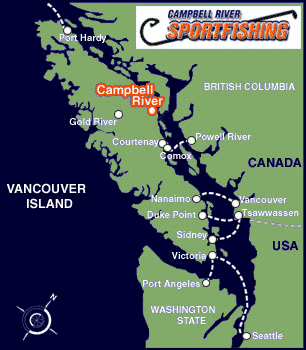 We are located mid-way up the East coast of Vancouver Island off the South-West coast of mainland British Columbia, Canada. We are part of an intricate maze of islands nestled in the scenic sheltered waters of the inner passage to Alaska. In every direction you look there are pristine panoramic views and abundant wildlife, showcasing the adventurous West Coast life style we have here.
Campbell River is the perfect place for your vacation, or meeting place for your company, family reunion or other event. We are pleased to show you a good time and how great the salmon fishing can be here. (That's why we live here!)
Take a look around our site, check out our salmon fishing charter packages for Campbell River, the Salmon Capital of the World. Please check out our photo gallery as well. Notice all the big salmon and the even bigger smiles. You can experience the thrill of salmon fishing yourself, in one of our cruisers or Boston Whalers. Just drop us a line, or give us a call, we'll hook you up!