Phone:
250-555-5555
Toll Free:
1-877-555-5555
Website:
CRFish.com
Moored at Discovery Harbour Marina in downtown Campbell River, BC, Dock D.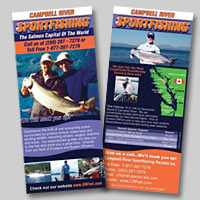 Frequently Asked Questions
Click on each question you would like to know the answer for, or scroll down to review all the questions and answers.

What types of boats do you have?
We have several different boats to choose from.
Boston Whalers: 17' long, open, very safe, washroom available. (1-2 guests per boat)
Cruisers: covered, comfortable, fully equipped with washroom facilities: a 22' Campion Explorer 602 Sport, and a 22' Chris Craft. (1-4 guests per boat)
All of our boats are Coast Guard approved. Please visit our photo gallery to see some photos of our boats.

What do I need to bring?
We suggest the following:
Your typical clothing required for your length of stay, such as pants, jacket, t-shirts, shorts, etc.
Sweater for layering, if needed
Hat for the sun, sunglasses and sunscreen
Camera, video camera and/or binoculars
Identification for Customs Canada, if required
Please note: cell phones work in our Campbell River location, but do not in our alternative destinations.

What types of fish are we fishing?
This question is best answered by viewing our fishing calendar page, since it depends on the time of year and the location you wish to fish. Though there are many more species of fish available in our waters, we listed the most frequent or most popular species caught.

How much experience does your guides have?
All of our guides have several years of guiding experience and are fully equipped with the best gear to ensure you have the fishing experience of a lifetime. Our guides do this for a living and are on the water every day so they know the waters, the conditions and the migratory patterns of the fish and bait. We will take you to the fish, then you get to experience the thrill of the catch.

Are fishing licenses included?
We do not include the cost of fishing licenses because of the difference in cost for BC residents and for non-residents and whether you wish to retain your catch or not. It also depends on the duration you wish to fish and if you want to fish fresh water as well as tidal waters. If you have any questions regarding licenses, please visit the Department of Fisheries and Oceans website.

Are the fishing licenses good for all your locations?
Yes, they are. The licenses are for tidal waters and are province wide for the duration you choose to purchase it for.

Do you offer non-smoking guides?
Yes we do, but please request this when you make your reservation.

Can you guarantee fish?
We do our best to ensure a catch for you but there are no guarantees in sport fishing, that is what makes it a sport. However, we have based our business fishing The Salmon Capital of the World for a reason! Check out our photo gallery. Tight lines!

Do you do boat rentals?
No, we no longer do boat rentals due to the rising costs of liability insurance and the impending requirement for an operator's license for all pleasure crafts.

What makes Campbell River the Salmon Capital of the World?
What makes us especially unique is that the huge waterways of the Pacific North-West region are all funneled into the Discovery Passage, which is less than a mile wide at some points. All marine animals and traffic have to pass through this narrow area during each tide cycle, making our waters some of the most productive in the world. The turbulence created by these powerful tides stirs up nutrients which in turn causes the feeding cycles to be a frenzy of activity. The more nutrients, the larger and more numerous the fish. We got the title however, after a gentleman named Sir Richard Musgrave, in 1896, wrote about catching a 70 lb (31 kg) salmon here in Campbell River in a magazine called "The Field".

Are you able to fish larger groups of people?
Yes, we are able to make full arrangements for larger groups. Email us or give us a call at 250-555-5555 with your requirements and dates and we can hook you up!

What are your hours of operation?
Please give us a call anytime at 250-555-5555 or 1-877-555-5555.

What are the accommodations like in the packages you offer?
For our packages we provide full service accommodations based on double, triple or quad occupancy. The facility is a CAA AAA Approved Lodging and also a Tourism Approved Accommodation.

What is included in the packages?
All our fishing packages include: accommodations; experienced professional guides; tackle and rods; wet gear (if necessary); cleaning, quick-freezing and boxing of catch; boxed lunch for each day in which 10 consecutive hours are fished within that day; airport transfers to and from the Campbell River or Comox Airports (Comox guests must all be in one party); and Provincial Sales Tax (PST). Our packages DO NOT include: meals (except in all-inclusive corporate packages); bait; fishing licenses; processing of catch such as canning or smoking; and Harmonized Sales Tax (HST). Fuel surcharge may apply. Bait, if used, can range from a minimum of $14 up to approximately $50 depending on the location and species fished. We can accommodate a maximum of 4 guests per Cruiser, and 2 guests per Whaler. We reserve the option to place a triple or quad party in 2 Whalers. All packages are based on double, triple or quad occupancy.

Why the different costs for bait?
There is an additional charge for bait only if it is used. At certain times of the year, the water conditions and feeding patterns of the fish dictate whether bait is used or not. The cost is approximately $14 (typical for Campbell River fishing). Crabs and prawns also require the use of bait.
If you have any further questions please feel free to
contact us by email or by phone: 250-555-5555 or 1-877-555-5555.