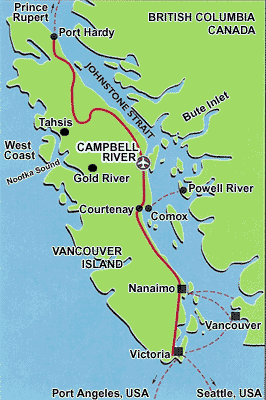 How to Travel to Campbell River
Campbell River Lodge
1760 N. Island Highway,
Campbell River,
British Columbia, Canada
V9W 2E7
The Campbell River Lodge is located in Campbell River, midway on the east coast of Vancouver Island, located on the south-west coast of British Columbia, Canada. Whether you are traveling by land, sea or air, enjoy the spectacular scenery of our region.
For travel details see below.
BY LAND
Driving
Once on Vancouver Island, getting to Campbell River is easy. You have two choices: the Inland Island Highway (#19), which is a four-lane, more direct route, or the fully serviced Oceanside Route (#19A), which is more scenic, meandering through all the coastal towns and villages. This route is stunningly beautiful and clearly marked by the official "Starfish" signs. The Campbell River Lodge is on this highway.
from Victoria - 264 km / 165 miles - 3.5 hours (North on #19, or #19A)
from Nanaimo - 153 km / 95 miles - 2 hours (North on #19, or #19A)
from Comox / Courtenay Airport - 45 km - 35 minutes (North on #19, or #19A)
from Port Hardy - 235 km - 2.5 - 3 hours (South on #19)
from Seattle - approx. 7 hours (including ferry travel time)
Buses
Island Coach Lines (Laidlaw) - bus service to all points on Vancouver Island including Campbell River. Connections from Vancouver by Greyhound or Pacific Coach Lines (see below).
Telephone: 250-385-4411
Toll Free: 1-800-318-0818
Website: islandlinkbus.com
Greyhound - service from Vancouver to Nanaimo (via BC Ferries).
Telephone: 604-482-8747
Toll Free: 1-800-661-8747
Website: greyhound.ca
Pacific Coach Lines - service from Vancouver to Victoria (via BC Ferries). For scheduled departures from Vancouver International Airport, click here.
Telephone: 250-385-4411
Toll Free: 1-800-661-1725
Website: pacificcoach.com
Campbell River Transit - service within Campbell River.
Telephone: 250-287-7433
Website: busonline.ca
Car Rentals
Budget Car and Truck Rentals
Telephone: 250-923-4283
Toll Free: 1-800-268-8900
Website: budgetbc.com
National Car and Truck Rentals
Telephone: 250-923-7278
Toll Free: 1-800-227-7368
Website: nationalcar.ca
BY SEA
Ferries
BC Ferries - vehicle and passenger service from all routes to and from Vancouver Island from mainland BC. If you are planning a round trip to and from the Mainland, click here to find out about fare discounts.
Schedules
Telephone: 250-386-3431
Toll Free: 1-888-223-3779
Website: bcferries.com
Reservations (credit card required)
Telephone: 604-444-2890
Toll Free: 1-888-724-5223
Vancouver (Tsawwassen) - Nanaimo (Duke Point) - 2 hours
Vancouver (Tsawwassen) - Victoria (Swartz Bay) - 1 hour 35 minutes
West Vancouver (Horseshoe Bay) - Nanaimo (Departure Bay) - 1 hour 35 minutes
Powell River / Westview (Sunshine Coast) - Comox (Little River) - 1 hour 15 minutes
Prince Rupert - Port Hardy (Inside Passage route) - approx. 15 hours
Bella Coola - Port Hardy (Discovery Coast Passage route) - approx. 12 hours
Victoria Clipper - high-speed catamaran passenger service between Seattle WA, USA and Victoria, BC.
Telephone: 206-448-5000
Toll Free: 1-800-888-2535
Website: victoriaclipper.com
MV Coho - vehicle and passenger service between Port Angeles, WA and Victoria, BC.
Telephone: 360-457-4491
Website: northolympic.com/coho/
Washington State Ferries - vehicle and passenger service between Anacortes, WA and Sidney (Victoria), BC.
Telephone: 206-464-6400
Toll Free: 1-888-808-7977
Website: wsdot.wa.gov/ferries/
BY AIR
Airlines
Pacific Coastal Airlines - daily service from Vancouver - 40 minutes.
Telephone: 604-273-8666
Reservations: 1-800-663-2872
Website: pacific-coastal.com
Westjet - service from Calgary or Edmonton, AB to the Comox Airport (pick up can be arranged for our package guests, so please give us a call) - 1 hour 15 minutes.
Toll Free: 1-888-937-8538
Website: westjet.com
Central Mountain Air - service from Vancouver - 40 minutes.
Telephone: 250-847-2517
Toll Free: 1-888-865-8585
Website: centralmountainair.com
Kenmore Air - Floatplane service from Lake Union (Seattle area) to Campbell River.
Toll Free: 1-800-543-9595
Website: kenmoreair.com
Corilair - Daily floatplane service from Vancouver to Campbell River.
Telephone: 250-287-8371
Website: corilair.com