Salmon Fishing Charters at Campbell River Lodge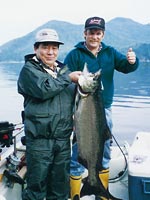 Campbell River, the world reknown "Salmon Capital of the World, Your Adventure Playground!", offers some of the best salmon fishing in the world. There is five native species of salmon: Chinook salmon (King, Springs), Coho salmon (Silvers), Sockeye salmon, Pink salmon and Chum salmon. Salmon are exciting and powerful fish. It is a thrill to feel your rod tremble with every head shake of a fiesty salmon and the reel screaming as your salmon takes out line. Our guides are experienced and will take you to where the action is. Tight lines!
Salmon Fishing Packages
Please select one of the following packages for more information:
Comments:
"We had a great time!!!!!!! Chris is an awesome guide, full of expertise, enthusiasm and energy. We will have absolutely no hesitation to recommend him. We will see you again. Thanks Chris. Thanks to the Lodge for employing him."
- Casey, Brian and Kyle
We would like to hear from you! To add your comments, please contact us.