Welcome to Campbell River Lodge
Fishing and Adventure Resort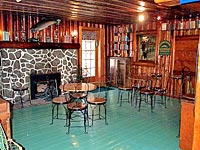 The Campbell River Lodge, Fishing & Adventure Resort is an intimate lodge nestled on the banks of the "famous" heritage Campbell River. The Lodge itself was built in 1948, and is the oldest and most unique fishing lodge in Campbell River. Originally constructed from logs in the style of the Hudson Bay Trading Posts, we have been careful to maintain the old world charm while offering our guests all the modern conveniences.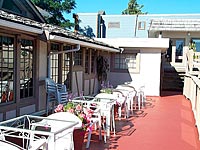 Magnificent wood carvings adorn many of the beams, walls and railings inside the Lodge and our surrounding grounds host an extraordinary collection of photos, artifacts, antiques and chainsaw paintings.
We take pride in our staff and the way we treat all of our guests. We have a casual style (seasonal) dining room, and a year round West Coast style pub. Both of these look out over the Campbell River where you can see eagles soar and salmon jumping.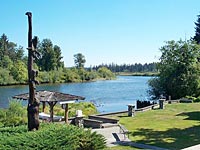 The Lodge's Conference Center is a first class colonial style banquet room just off the dining room. It has been finished with oak trim and is tastefully decorated with windows overlooking the river. Walk out onto the outside patios for quiet talks or fresh air. It has the capacity to seat up to 120 people for dinner, and is the perfect setting for a wedding, corporate retreat, meeting or seminar.
We specialize in corporate group packages with 8 or more fishermen, and offer complimentary conference facilities and a tournament trophy for the largest fish caught by your group. Combining your business incentive program with one of our fishing packages makes good business sense.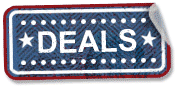 We boast great fishing, great food and great fun. Sea to Sky adventures we have it all. Our old world charm combined with modern convenience and 73 years of experience make us your perfect vacation destination.
A promotional video is available. Please contact us for details.
CAA AAA
Approved Lodging
Tourism British Columbia
Approved Accommodation
We are also proud members of:
Comments:
My first time fishing was at the Lodge in 1997. I was apprenhensive about it but my husband encouraged me. I thoroughly enjoyed myself and now we make it a yearly trip to the Lodge. My largest to date is 27 lbs. I'm not stopping until I catch a Tyee!!! Every time our guide has guided us to the fish. We have never gone home without something to brag about. Thank you again for such a lovely time. See you next year.
- Kathryn Becker, Toronto, ON
We would like to hear from you! To add your comments, please contact us.