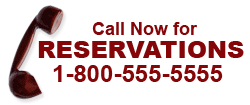 Featured Services
Campbell River Lodge, Fishing and Adventure Resort has been serving the local community and travelers since 1948. The Lodge was originally constructed from logs in the style of the Hudson Bay Trading Posts. Over the years, the Lodge has been renovated to ensure the comfort and safety of its guests with modern ammenities, however, the ambiance of old world charm is still evident. The Lodge, nestled on the banks of the famous heritage status Campbell River, has seen many changes which include: the Riverside Ca Fae, the Local Bar-Grill and Patios and the Grand Salmon Room and Coho Meeting/Banquet Rooms. All these offer services available not only to our travel guests but local residents as well. We have great food served riverside for your dining pleasure. Enjoy your meal while you watch the river meander by and the wildlife that it attracts.
We also invite you to visit The Local Liquor, Beer and Wine Store, complete with a self serve walk in cooler featuring both alcoholic and non alcoholic cold products.
Special arrangements may be made in advance for our sport fishing package guests, to "cook your catch for dinner", if service time permits.
Please feel free to leave your comments and selections requests with our friendly staff. We hope you enjoy your stay with us.
Conference, Banquet, and Wedding Services
Whether you are looking for a venue for a working conference, a family reunion, banquet or a wedding, the Campbell River Lodge has something to offer you. The Lodge has been the host venue for many such group events over years because of it's private location nestled on the Campbell River. Highlights of these services include:
Food and bar services
Seating available for up to 350 people
Food services options include: coffee and tea service, party trays, BBQs, buffet style meals, sit down full service meals
Wireless internet and meeting ammenity rentals
Many wonderful fishing and adventure packages available for groups rates
Commercial rates for our group guests needing accommodation
Non-Profit rates
Please contact one of our representatives for rates.